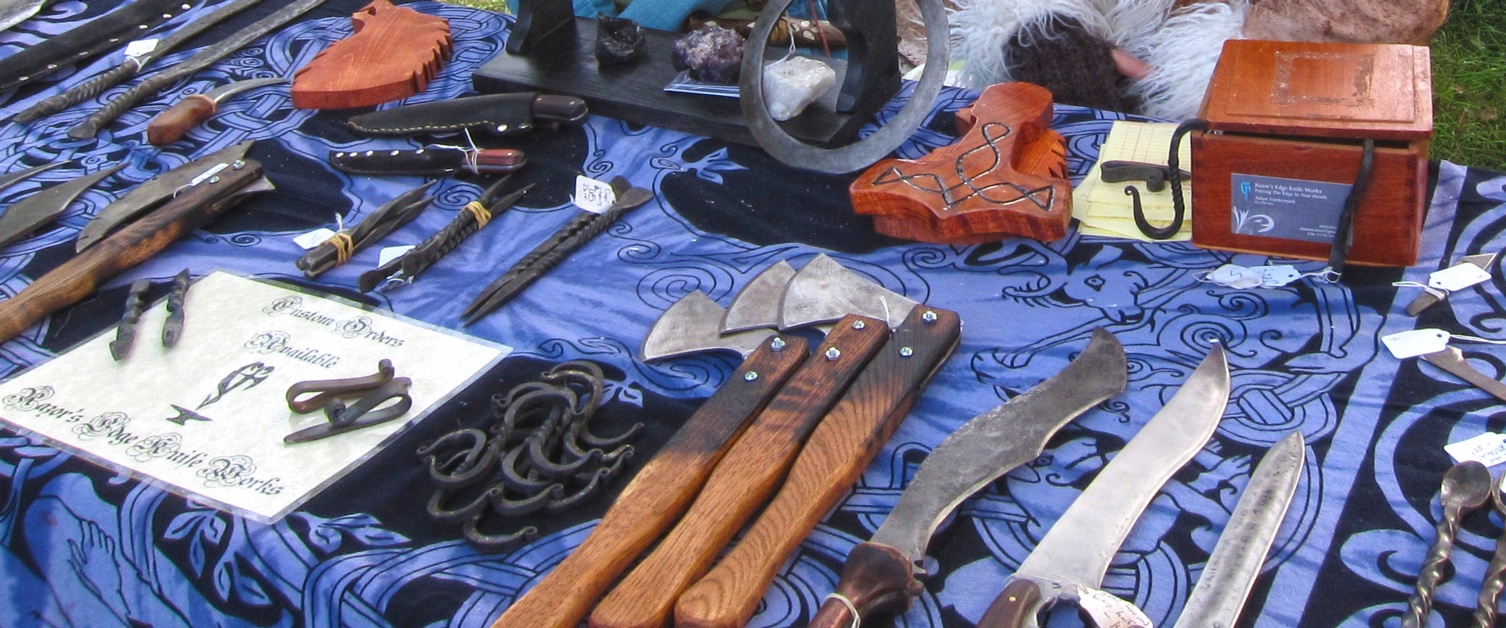 All vendors are encouraged to set up on Friday, and join the fun at our Pot Luck at 7pm at the Fallen Friar Pub in Riverside Park.
When you arrive, you need to check in with Diane at the Pub.
When you enter Riverside Park, take the first turn to your left. The Pub is at the end of this road.
Diane will be there, or someone there will know where she is.
If she is not available, call her cell phone at 712-251-4780 and she will direct you to where you can set up.
All vendors must be set up no later than 8am Saturday, and all vehicles must be off the grounds by then on both Saturday and Sunday mornings. Plan to attend the gathering at 9am each morning prior to the 10am gate opening each day. Saturday night the pub will remain open until 9pm.
The gathering will come to an end at 5pm on Sunday and no vehicles are to be on the grounds prior to that time and no take down started until then.
24-hour security will begin Thursday evening and run throughout the event.
All vendors are encouraged to plan on joining the merriment of the gate opening each day and also in the drumming that will end each day, so bring your drums or other instruments!
All vendors are required to do their utmost to have their tents, booths and stands decorated to embrace the look of 16th century Old England... festive, bright, colorful, upbeat looks are easy to create with the use of draped cloth.
All vendors are also required to be in period garb as our purpose is to take our patrons back to the Renaissance period.
The more you look the part and herald your goods, the more you sell and the more fun everyone has!
All vendors are required to clean up after themselves and haul all trash to the on-grounds dumpster, not to the trash cans scattered around the grounds... to the big dumpster!
This is "first come, first choice" on the locations for vendors. When you arrive, you will be informed as to which area can accommodate you and you will have your choice as to which spot you decide to claim as your own. This allows you to be happy with where you are because THERE ARE NO PROBLEMS IN THE KINGDOM OF RIVERSSANCE!
We can provide electricity to some food vendors, but there will be an extra fee to pay the city to hook it up. Generators must be soundproofed and will only be allowed in specific areas of the grounds along Riverside Boulevard.
Remember, as merchants, you are a very important part of the ambiance by creating the atmosphere of a harvest festival village, so plan on showing your best, in product and in presentation... ACT THE PART!
Parking areas are provided directly off the grounds for you. (NOT in the visitors parking)
On-grounds camping can be arranged at no additional cost to you.
All negativity must be left at home... we think "happy" here!
Vendor Fees
Non - Food Vendors - $100
Proof of $50,000 public liability insurance is required with a rider naming River-Cade free of any and all responsibility of claims.
Food Vendors - $175
Proof of $1,000,000 public liability insurance is required with a rider naming River-Cade free of any and all responsibility of claims.
If you do not have your own coverage, you can be on the River-Cade policy for an additional $50.
Sales tax collection for Iowa sales tax, where applicable, is totally YOUR responsibility. We will have the our event number to use on your tax collection form.
Water is available on site but we do not provide or sell ice.
Please feel free to call with any questions to Diane Gaskell at 712-251-4780 or e-mail her at gaskellrod@gmail.com.
GATHERING LOCATION is Riverside Park, Riverside Blvd., Sioux City, Iowa